Liebe Freunde
Wieder geht ein Jahr zu Ende und ich erinnere mich an das Post vom Jahreswechsel 2014. Das ist nun eine einfache Rechnung und 4 Jahre her. 4 Jahre seit wir unterwegs sind und uns entschieden haben das "Hamsterrad" zu verlassen. Nun sind wir HIER schauen nach vorn und auch zurück. Vorne liegt Basel, welches wir verliessen, hier liegt Kalifornien und hinter uns liegt viel, sehr viel sogar, mehr als ich mir jemals in meinem Leben erträumt hätte. Wir gingen los mit dem Gedanken sicher ein Jahr, evtl. 2 unterwegs zu sein. Es sind nun über vier. Wir spielten mit dem Gedanken auszuwandern und ganz gestorben ist der Gedanke nicht. Eher zurecht gerückt, wir vermissen Basel und ja wir vermissen vor allem euch. Euch die Crew, die Freunde, die Gang und die Familie, die immer hinter uns stand/steht. Teilweise mit dazu beigetragen hat, dass wir uns dieses "Living the Dream" Ding erlauben konnten. Fuck Jungs und Mädels, wenn ihr euch nur im entferntesten vorstellen könntet, wie DANKBAR wir dafür sind!! Wir konnten so viel erleben, sehen, fühlen und riechen. Wissen nun, wie scheisse es ist, eine verdammte Durian im Sky Train zu haben. Wissen, wie doof dich ein Seehund anschauen kann und er sich fragt, wieso du dich so stümperhaft im Wasser bewegst. Es grenzt an Mitleid in seinen Augen:-)
Viel ist passiert in dieser Zeit, es sind Freunde gegangen, denen wir gerne die Geschichte dieser Reise erzählt hätten und es ist jemand geboren, dem wir sie sicher mal erzählen werden. Ich glaube, so ist der Lauf dieser Geschichte, nicht alles geht, wie man es sich wünscht und vieles kommt besser als man denkt. Manches geht den Bach ab und anderes fällt vom Himmel. So ist es wohl einfach.
Hey verdammt nochmal:-) Wir wünschen euch allen ein gutes Jahr und hoffen, dass ihr danach eine Geschichte zu erzählen habt 🙂 Wir danken unseren Familien, Road Devils, unseren Freunden über diesen Planeten verteilt, Eddie, Arsa, Rui, Angela and Mitch, The Asia Chicks, Ciervo, der Knallfrosch Gang, Rod und Michele, Will and Sarah und jeder und jedem, der uns dieses Jahr begleitet hat.

Habt ein tolles 2019.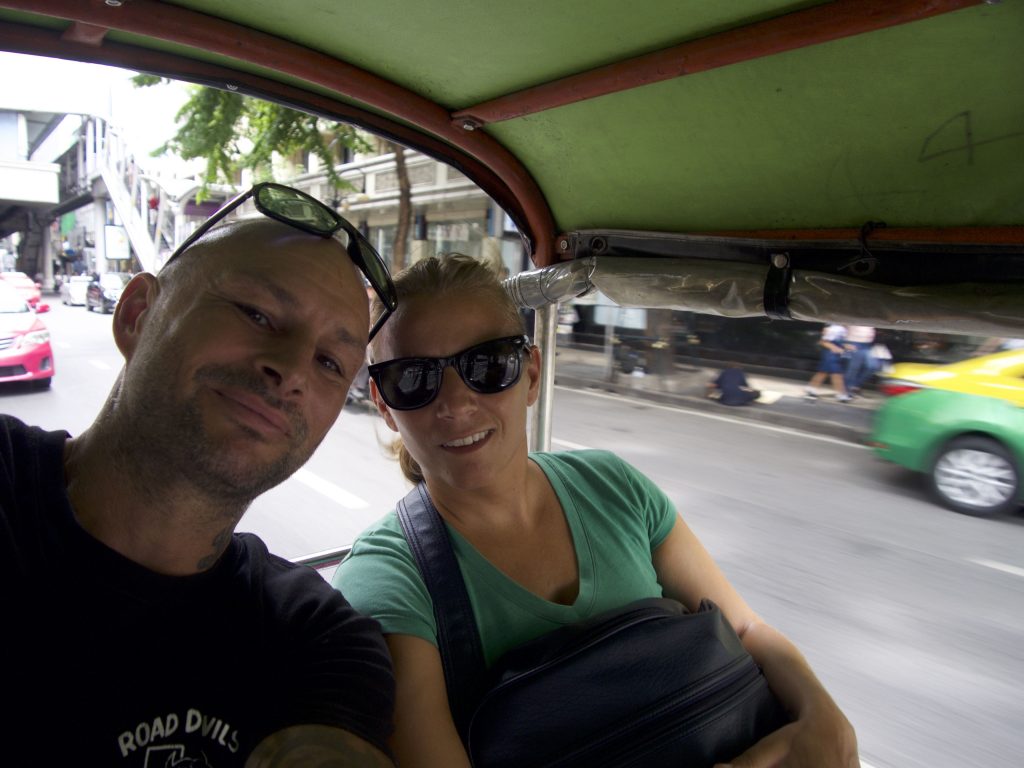 Dear friends
Again, a year comes to an end and I remember the post of the new year 2014. A simple calculation, 4 years ago since we are on the road and decided to leave the rat race. Now we are HERE looking forward and backward. Forward is Basel which we left, here is California and behind us is a lot, a lot even, more than I would ever have dreamed of in my life. We started with the thought for sure to be one year, maybe two years on the road, there are now over four. We played with the idea of emigrating and the idea didn't die completely. Rather cope, we miss Basel and yes we miss you especially. For you the crew, the friends, the gang and the family who is always standing behind us, partly contributed to the fact that we could allow ourselves this "living the dream" thing. Fuck guys and gals if you could imagine in the least how thankful we are for it!! We could experience, see, feel and smell so much. Know now how shit it is to have a damn Durian in Sky Train. Know how stupid a seal can look at you and ask itself why you are so slow in the water. Just pity in his eyes 🙂
Much has happened in this time, there have been friends gone whom we would like to have told the story of this trip and there is someone born whom we will tell them for sure. I think so is the course of this story, not everything goes as you wish and much comes out better than you think. Some goes wrong and some goes well. That's easy. Hey damn it 🙂
We wish you all a happy new year and hope you have a story to tell afterwards 🙂 We Thank Our Families, Road Devils Distributed To Our Friends Over This Planet, Eddie, Arsa, Rui, Angela and Mitch, The Asia Chicks, Ciervo, Knallfrosch-Gang, Will and Sarah, Rod and Michele and everyone who has accompanied us this year.
Have a fucking great 2019.